Celebrating National Philanthropy Day
Philanthropy lies at the heart of human greatness.
~ Patrick J. Ryan
Philanthropy. It's a word we hear a lot these days, but what does it actually mean?
Simply defined, it means 'love of humanity'… a longer definition is 'the desire to promote the welfare of others.'
This year, National Philanthropy Day is Sunday, November 15, and celebrates charitable work that creates a lasting impact. Lions Gate Hospital Foundation has thousands of community-minded change-makers who support our fundraising activities. Without their generous support, Lions Gate Hospital wouldn't be what it is today.
A great hospital needs community support, and to celebrate National Philanthropy Day, we're honouring five philanthropists who have made a difference to health care on the North Shore.
The five categories we're recognizing this year are: Outstanding Youth Philanthropist, Local Business, North Shore Community Group, Unsung Hero, and Corporate Partner.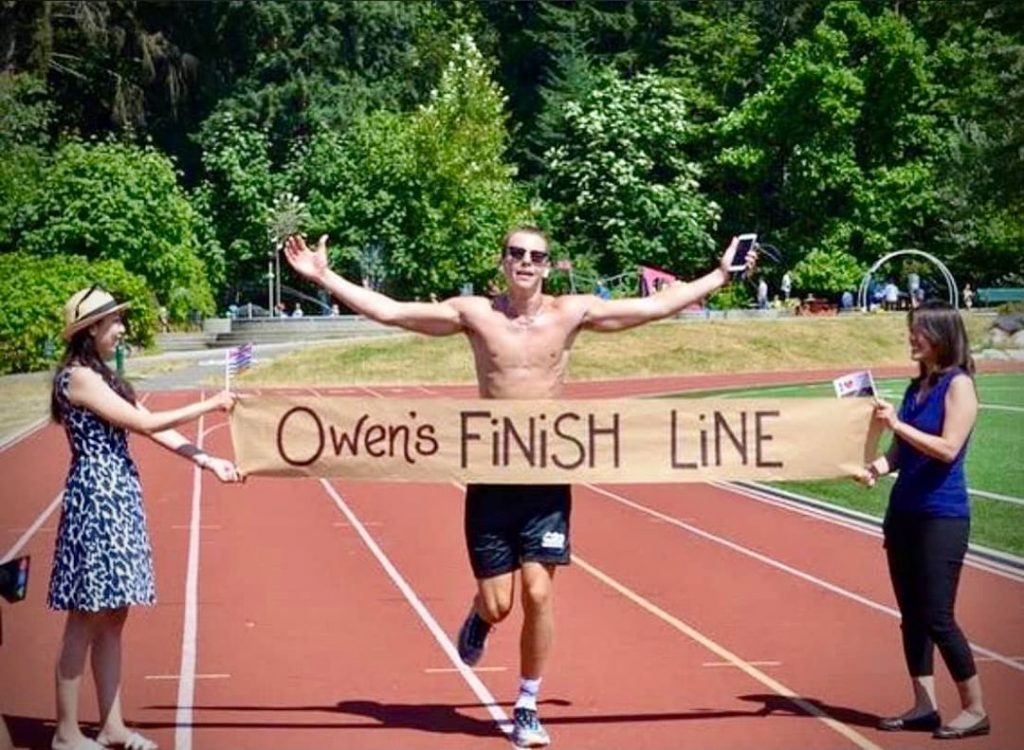 Owen Ostler – Outstanding Youth Philanthropist
Owen Ostler, a Carson Graham Secondary student, had no experience with endurance running when he set out to complete a solo marathon for charity. In June, he ran 42 kilometres around Fen Burdett Stadium to raise funds for the Critical Care Unit coming to LGH.
"I've seen so much fundraising going towards COVID-19, I was wondering what areas had been overlooked or neglected," Ostler told the North Shore News back in June. "I just thought, it's a pretty small world – I could know someone who needs that care."
Owen exceeded his fundraising goal, raising $11,000, and earning the attention of media outlets around the city. We couldn't think of a more deserving youth philanthropist to honour this National Philanthropy Day.
Master Tony Kook's North Shore Taekwondo – Local Business Philanthropist
Master Tony Kook's North Shore Taekwondo is passionate about giving back to the community. During what has been a challenging year for small businesses, Master Tony Kook has increased his community involvement, participating in raising funds during LGH Week and encouraging his students and their families to give, too. For the last three years, Master Tony Kook's North Shore Taekwondo has hosted an end-of-year Christmas party for their students, raising funds for the hospital. Thank you Master Tony Kook for your ongoing support.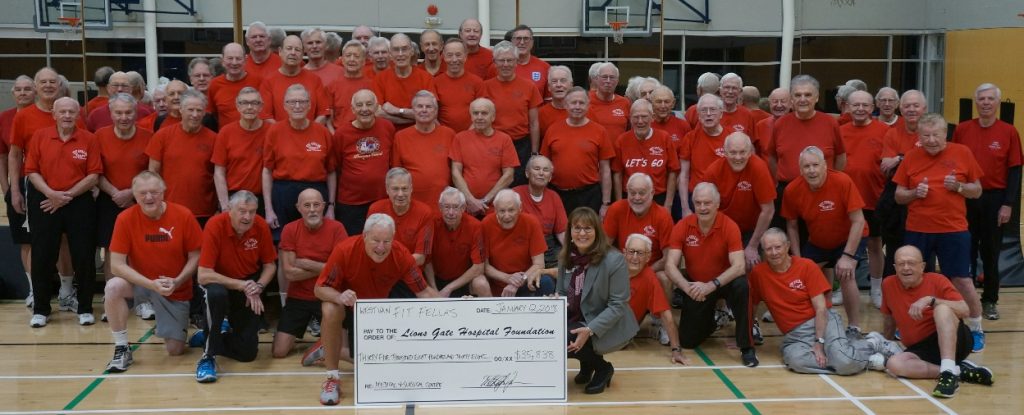 Fit Fellas – North Shore Community Group
Fit Fellas was formed in the 1970s by Frank Kurucz – then West Vancouver's Director of Recreation – to address the shortage of fitness programs for men. Today, there are 190 Fit Fellas, taking steps towards their health, and giving to support the health of our community. Fit Fellas has been a loyal donor to the Foundation for 17 years; donating more than $345,000 during that time. Please join us in celebrating Fit Fellas for the work they do to improve the health of our community.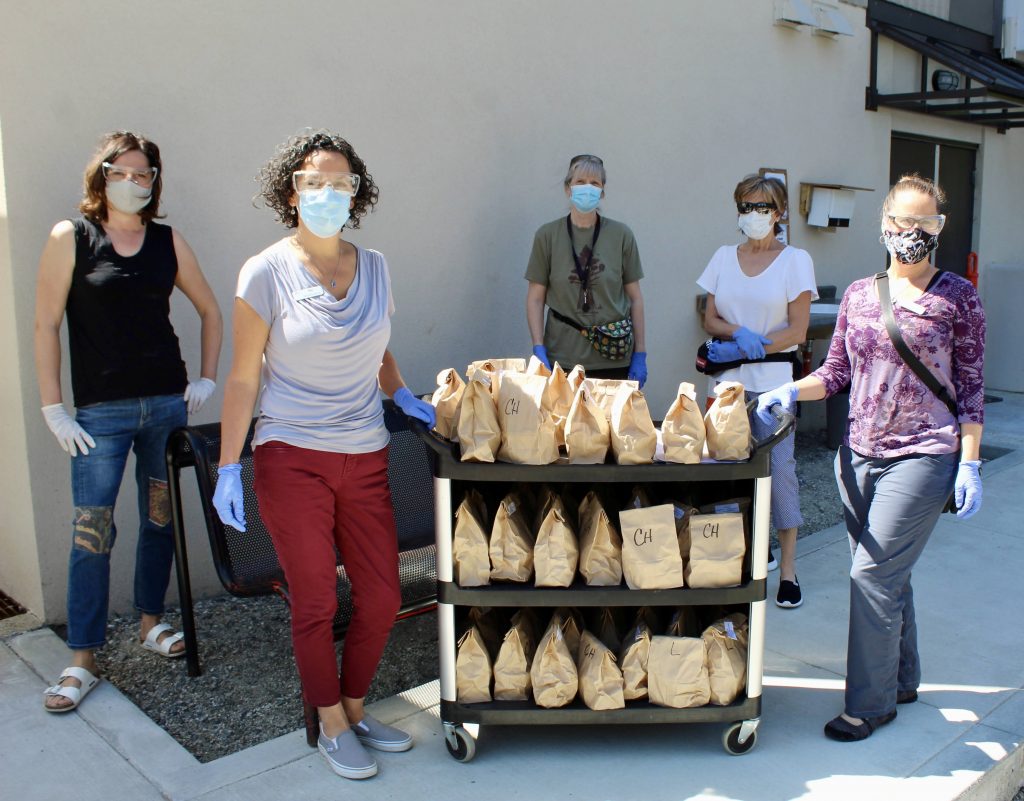 Julie McAdam – Unsung Hero
Julie McAdam (pictured left) is a North Shore Community Nurse who has given back in a big way this year. At the height of the lockdown in the spring, Julie saw a need to provide vulnerable residents in the community with meals. Determined to help, she set out to fundraise and assemble a team of volunteers to deliver meals.
We'd like to recognize Julie McAdam as our 'Unsung Hero' for National Philanthropy Day.  Julie worked with Soup Meister in Lonsdale Quay to prepare meals, and raised enough funds to deliver meals until July. She continues to work hard for the community, launching innovative projects that support community nursing. Thank you to Julie, and all the nurses who volunteered to help.
McDonald's Jim Pike Ltd. – Corporate Partner
We had the pleasure of surprising Jim Pike with the news of McDonald's Jim Pike Ltd. being nominated as our Philanthropist of the Year in the Corporate Partner category. Jim Pike, along with his restaurant teams, are true change makers who have supported big improvements in patient care.
Since 2017 they have been supporting Lions Gate Hospital through our Gala, Golf Tournament, and as founding partners for LGH Week. Jim Pike's drive to support local health care is outstanding and we are grateful for it.
Thank you to all of our change-makers. Your participation makes a life-saving difference in our community.