Next Tech
With the Paul Myers Tower now well under construction, LGHF has turned its attention to equipping the hospital with 10 new technologies that will elevate clinical care and improve the patient experience.
From automated vital signs monitoring to integrated bedside terminals featuring food ordering and virtual visits with family, you can help bring new technology to LGH that will improve patient comfort and safety and support staff in delivering the best patient care.
---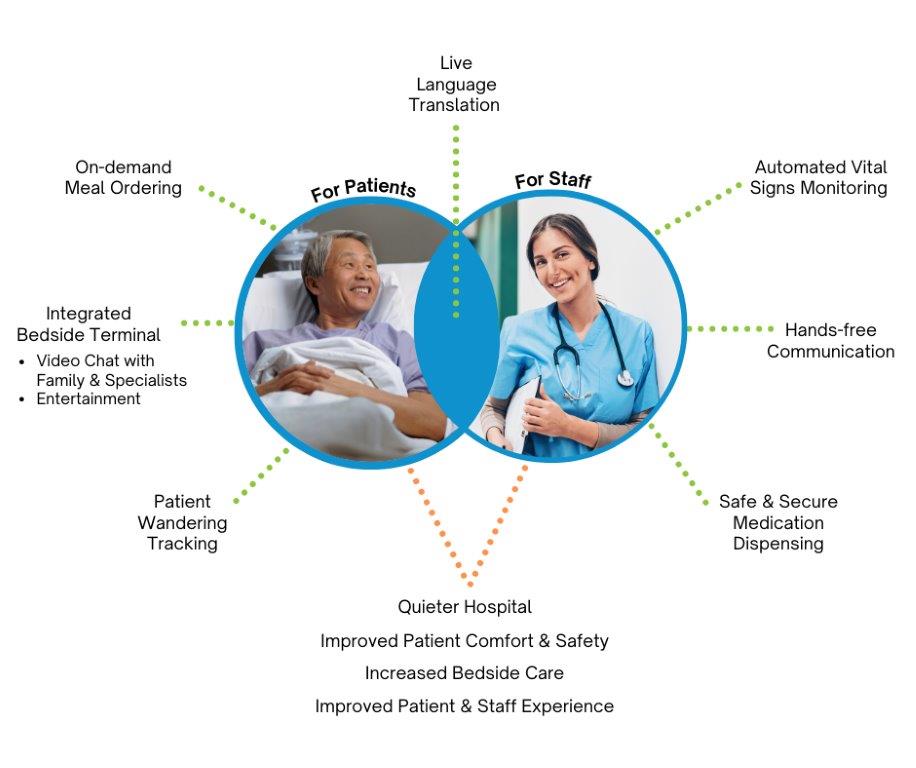 Patient Comfort & Safety
For the first time, patients will have access to an Integrated Bedside Terminal from which they can order meals, watch TV, make video calls, contact staff, view their medical charts with a physician and check their discharge notes. Staff will also be able to access online translation services from these patient-friendly terminals.
Vulnerable patients with dementia will have a Patient Wander System fitted to their personalized wristband. This will allow them to walk around freely in protected areas while alerts will sound if they stray out of the safety zones.
A Nurse Call System will be integrated with Vocera to enable patients to contact their attending nurse directly through their Vocera Smartbadge.
On arrival patients will be fitted with a personalized wristband that will allow them to be tracked easily from admission, pre-surgery, surgery to room location.
Better Clinical Care
Vital Sign Monitoring is a time-consuming yet important duty. With a vital signs monitor for every patient, the health care team can keep an eye on the status of their patients from a central console. Patients who are doing well can be left to rest while health care teams will be alerted to patients whose vital signs are a cause for concern. All 108 rooms in the Paul Myers Tower will be equipped with a monitor.
An Anesthesia Work Station (AWS) is a pharmaceutical dispensing system that controls and monitors all the different medications needed for surgery. The Tech Transformation Campaign will help fund an AWS for each operating room.
The AWS will be integrated with patient's electronic records and once the anesthesiologist has reviewed the patient's charts and chosen the drugs, they can sign them out and scan them with a barcode reader.
Staff Support
Whether calling for an extra piece of equipment in surgery, a porter to transport a patient or the emergency CPR team, the voice-activated Vocera Smartbadge, will enable staff contact each other without reaching for a phone.
Equipment is often shared between departments. Instead of going for a time-consuming search on foot for a piece of equipment, staff will be able to log-on to and Equipment Tracker App and track down the item they need within seconds.
With the Capacity Management Suite, staff will be able to plan the patients journey through the hospital by monitoring information such as room cleaning status, bed availability, surgical capacity and staff availability.
Donate Today
The Tech Transformation Campaign will impact patient care across the LGH campus. Please join our Technology Transformation Campaign and make a donation to support these exciting changes.