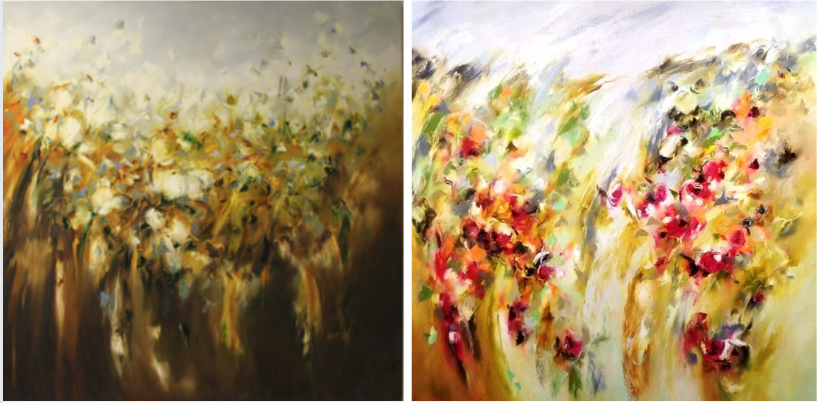 Artist: Carole Arnston
Title: Leaving the Garden / Wind Storm Two
Dimensions: 44" x 44"/ 40" x 40"
Medium: Oil on Canvas
Website: https://www.carolearnston.com/
Description: Carole Arnston was born in Toronto and gained her Bachelor of Arts degree form McMaster University. She then attended the University of British Columbia and studied art education. She then gained her Bachelor's degree in Architecture from UBC. In the early 90's, Arnston was awarded by the Architectural Institute of British Columbia for her work in Architecture for Kids. For 10 years, Arnston dedicated her energy to Architecture, urban design and particularly conceptual development. During this time, she worked in both Vancouver and Toronto for various architecture firms. Through her work as an Architect, she gained a deep understanding of the landscape, the rhythms of the ocean waves, the directional energy of the westerly winds and driven rains. Her creativity led her to transition to painting where she took inspiration form Joan Mitchell and Helen Frankenthaler and the even earlier Impressionists Monet and Manet. Her paintings also took inspiration form her love for the outdoors and her passions of kayaking and hiking. Today Arnston works from her studio set among tall Douglas fir trees overlooking the Pacific Ocean just outside of Victoria British Columbia.