Olympian Leaves Golden Legacy at LGH
The spirit of three-time Olympic gold medallist Kathleen Heddle burns bright at Lions Gate Hospital.
The legendary rower, died earlier this year after a six-year battle with cancer. During her treatment, Kathleen spent many hours at LGH and she wanted to honour the boundless care and consideration she and her family received from her care team at the oncology clinic.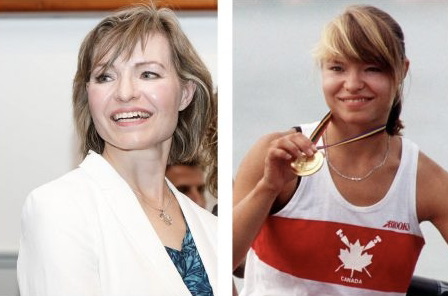 Kathleen Heddle wanted her gold medal to be an inspiration to all those who walked through the doors of Lions Gate Hospital in need of comfort and support.
Just ahead of the Tokyo Games, Kathleen's family visited LGH to pay tribute to the staff as well as the patients receiving treatment.
Staff and physicians from the Oncology Unit were in attendance as the family presented the gold medal that she won at the 1996 summer Olympics in Atlanta. They also generously donated a watercolour of Kathleen in action with her rowing partner Marnie McBean.
(From left to right) Kathleen's son Mac, daughter Lyndsey, Oncologist Dr. Sasha Smiljanic and husband Mike Bryden share memories and appreciation during the handover of her gold medal and painting.
"My wife always said that the staff who cared for her were some of her favourite people she ever met," says Kathleen's husband Mike Bryden. "She wanted the medal to be here at LGH as a way of saying thank you for all the amazing work your staff does for cancer patients."
The medal and painting are now on display in the Oncology Unit for the remainder of the Games .