13th Annual North Shore Health Care Awards
Congratulations to the five recipients of the 13th Annual North Shore Health Care Awards held at Lions Gate Hospital on Wednesday, January 22. Healthcare staff from across the North Shore attended the ceremony to celebrate and support more than 40 staff members who had won the respect and admiration of their colleagues.
Introducing the 2019 Recipients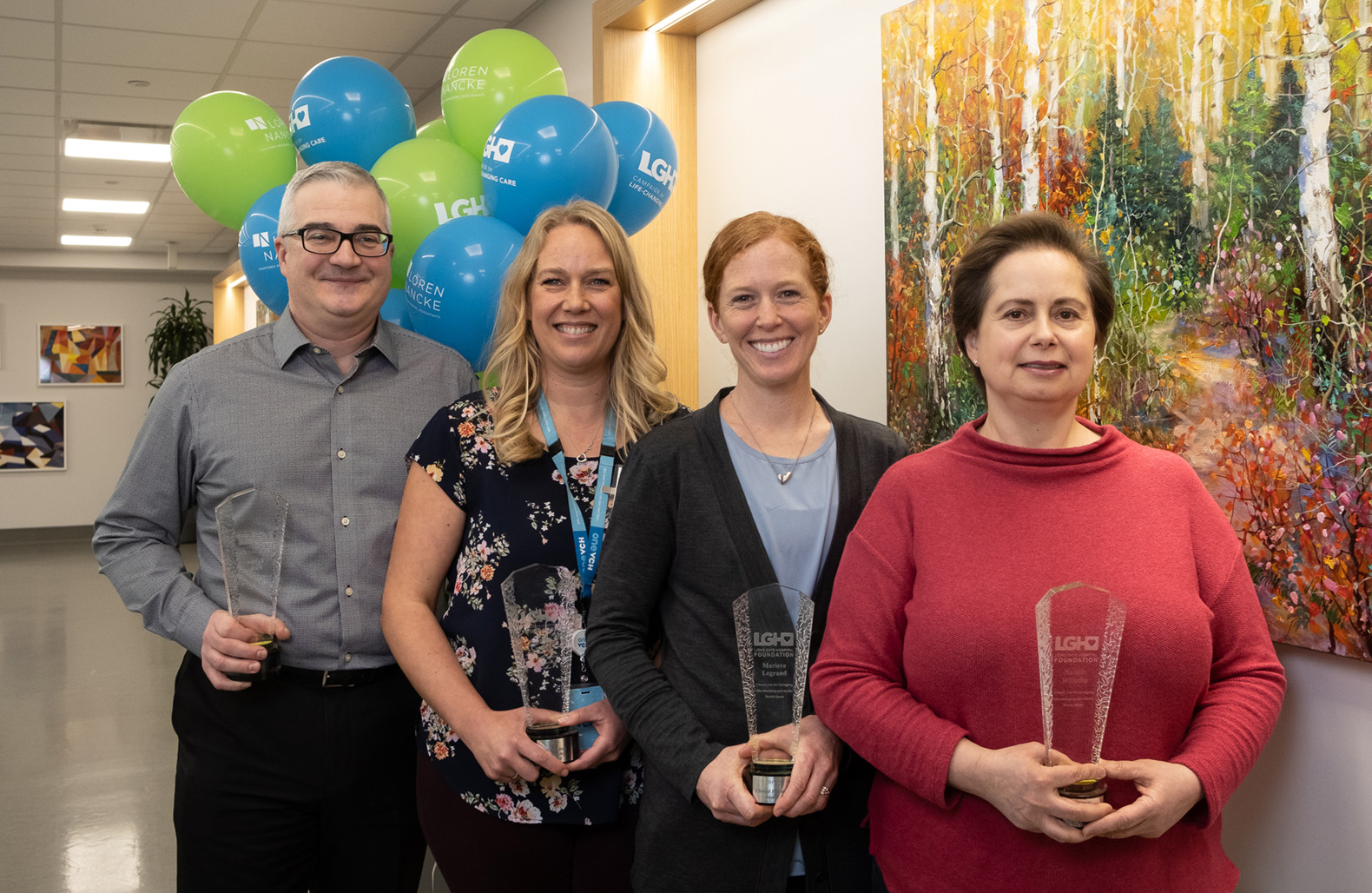 Natalie Wilhelm, Workplace Inspiration
Natalie Wilhelm, who received the award for Workplace Inspiration was nominated by eight different people. Natalie has been a nurse for more than 25 years and she has been a mentor and inspiration to colleagues throughout her career on the North Shore. She worked across many disciplines including urology, ENT and general surgery before moving into community nursing. Through a lot of hard work and determination, Natalie was able to get the West Vancouver Ambulatory Clinic up and running in 2005. She is an influential presence in the community, not just providing nursing care but meeting with families, sourcing appropriate services, providing help and advice with housing, supplying food and clothes for homeless clients and even finding care for pets. Not only has Natalie helped improve the life circumstances of her clients, she has been an amazing source of knowledge to other health care practitioners in the community.
Marieve Legrand, Clinical Practice
Stroke patients get better care at LGH thanks to the efforts of Marieve Legrand, the Stroke and TIA (Transient Ischemia Attack) Co-ordinator for Neurosciences at LGH. During 2019 she joined a province-wide effort to improve care protocols for stroke patients. Through improvements in screening, making access to treatment more efficient and participation in hands-on simulation training, medical teams working across several departments at LGH have been able to speed up the admissions, diagnostic and treatment process to improve outcomes for patients. Following the success of the program at LGH, Marieve lead the development of educational materials to support care at other facilities in the Coastal Community of care. Marieve's extensive knowledge, passion and commitment to bring best practice in stroke treatment to LGH and her constant goal of raising the quality of care and improving the outcomes achieved by patients and their families, made her the ideal candidate to lead this project.
Michelle Connell, Outstanding Achievement
During her 17 years at LGH, Michelle has been nominated for a North Shore Health Care Award six times. Described as a "natural leader and creative genius" by her colleagues, she has used her legendary interpersonal skills to transform simulation as the training and education Simulation Educator for the Coastal Simulation Program. Not only did the number of simulation exercises more than double in a 10-month period, she also extended the rural outreach program and inspired eight new user groups to join the simulation program. Working with teams in Emergency, Marieve Legrand and neuro-physicians, she devised a set of simulation events that tested and improved the Code 77 algorithm. Thanks to the sim-based training, Emergency staff were subsequently able to reduce the critical medication administration time from 60 minutes to 17 minutes in real, live emergencies.
The Spirit of Philanthropy Award
The Spirit of Philanthropy Award which is presented by LGH Foundation to exceptional individuals who exemplify a giving spirit and who frequently go above and beyond in their support of the Foundation's fundraising endeavours was presented to two of the Foundation's most active supporters. For close to 18 years, anesthesiologist, Dr. Shafik Thobani has been a champion of the Foundation. Over the past three years, his work behind-the-scenes has helped to raise millions of dollars for the Medical & Surgical campaign. The second recipient, Egidio Pasin, Site Co-Ordinator, Diagnostic Imaging, has been an active volunteer at numerous Foundation events including emcee at the annual LGH staff BBQ. He has led out-of-hours donor events and most famously, he has taken on mascot duties for the Foundation and donned and danced in the Seymour the lion costume.
As well as receiving the admiration and respect of their colleagues, each of the 2019 recipients took home $1,000 and a keepsake trophy.
LGH Foundation would like to thank event emcee Braden Davie, Director Professional Practice, Nursing & Allied Health and all of the staff who participated in the celebration video that got the awards ceremony off to a rockin' start!