Amica Helping Hands Foundation Supports Local Seniors in Need
Lions Gate Hospital Foundation and Amica Helping Hands Foundation have teamed up to help support local seniors in need.
Amica Helping Hands Charity
has committed $250,000 to the Amica Compassionate Fund which will enable frontline community care workers to cover the cost of essential items that will improve the quality of life for seniors who are receiving medical treatment and enable them to stay in their homes. Frontline staff in North and West Vancouver make more than 38,000 visits a year and many of the people they support are seniors living in poverty.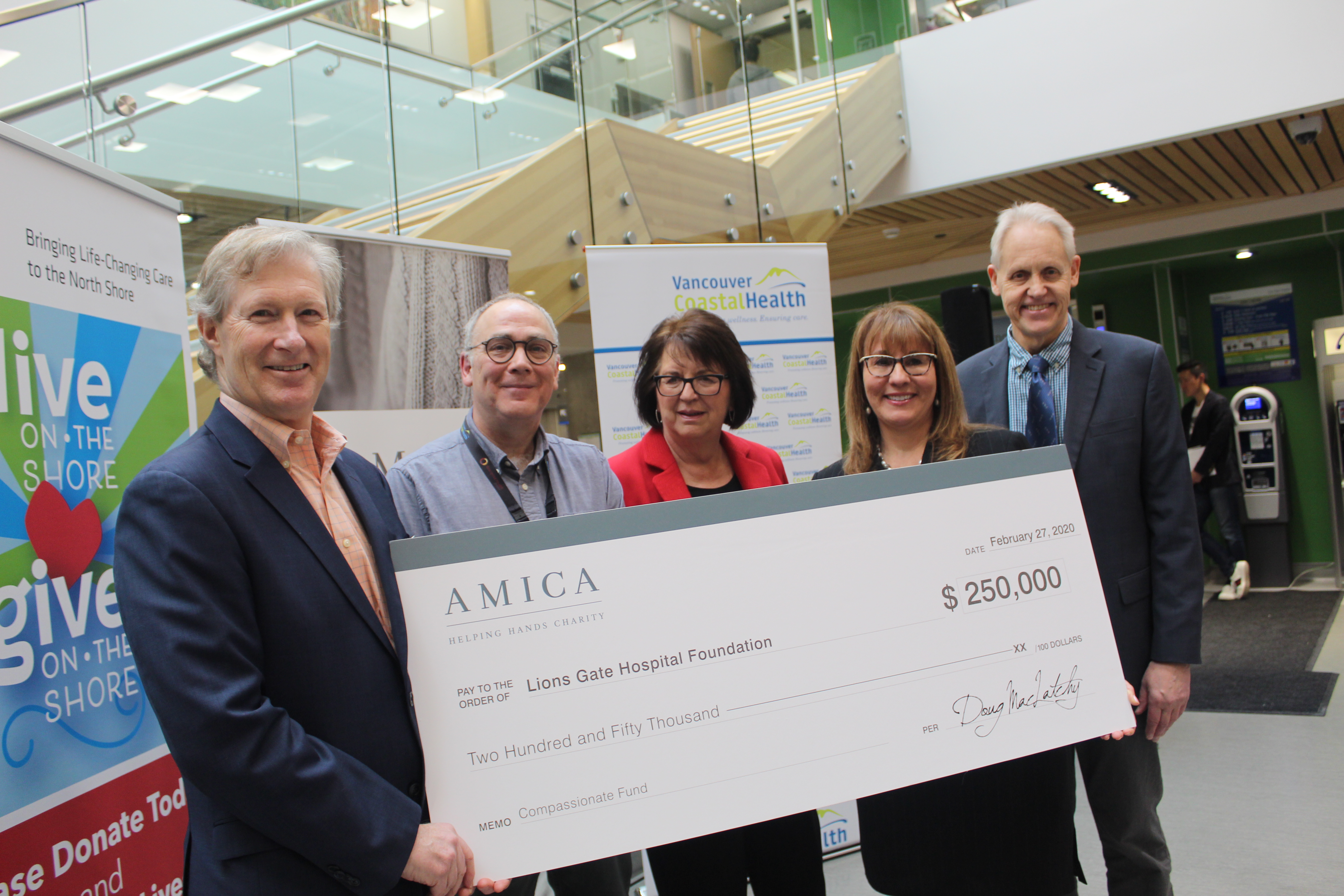 "It is an unfortunate fact that more seniors are facing homelessness and more are now receiving community based health services in the local shelter on the North Shore," says Sandra Edelman, Manager of Public Health, Chronic Disease Services, Primary Care on the North Shore. "Those seniors who face the painful daily reality of having insufficient funds to support themselves present difficult challenges for health care providers. When basic needs are unmet, which are foundational for their recovery and health, the work of the providers is compromised." Money from the fund can be used for a range of supports including food, cleaning services, prescriptions, pest control, and emergency transport to help out seniors just when they need it most. Rich Lawrie, a social worker on the North Shore who once had a client who sold her wedding ring to make ends meet, says the fund is already having a significant impact on the quality of life of his clients. "I have been using this fund for a couple of months and it is amazing. As a social worker it's a dream come true," he says. "I love this fund because it's like spackle – it covers many of the cracks in the social safety net." Amica Senior Lifestyles established the Amica Helping Hands Charity to support Canadian seniors in need by providing them with the goods, funds and services they need to thrive. Residents from Amica Lions Gate, Amica Edgemont Village, and Amica West Vancouver were involved in raising funds for the Compassionate Fund which will be available for at least the next five years.