No More Incommunicado
Imagine being in the midst of a medical emergency, with high-tech equipment beeping and attentive nurses and physicians hovering over you. But when asked a question, you cannot clearly explain how you're feeling or use the right words to describe what you're experiencing.
It's a challenge often faced by patients and medical professionals, especially in a diverse community such as the North Shore. Which is why the multi-modal translation units recently purchased through the Foundation's Patient Experience Fund are such a game changer for Lions Gate Hospital.
The translator tablet features two options: a live video link with a translator, or a voice-activated virtual interpreter to help health care staff and their patients communicate more effectively with each other.
"Having the virtual online interpretation service is one of the best improvements in patient-care that we've had in a very long time."

– Dr. Cassidy, ER Physician at Lions Gate Hospital
Watch a Live Demo of the Virtual Translator at Lions Gate Hospital
With hospital visitors severely limited during this COVID-19 crisis, the portable translator proved to be an invaluable tool for staff. Between March and June, more than 800 translation calls in a variety of languages, including Farsi, Russian, Bengali, Mandarin, Cantonese, and American Sign Language, have been made on behalf of patients.
"We just love it."

Emergency Staff have nothing but praise for the new translation technology at LGH.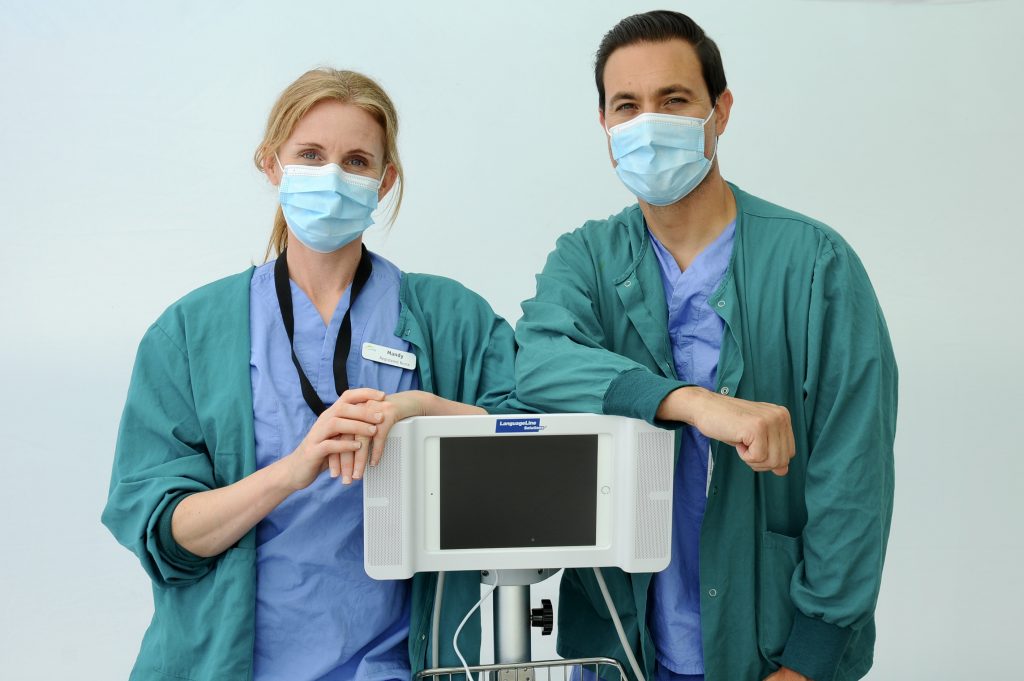 The multi-modal translation units are available as individual tablets or mounted on wheels for ease of use. Two units are currently in use at LGH (one of which was paid for by an anonymous donor) with another eight on order. Including the price of real-time translation services, the total cost of the program is $280,000.