15th Annual North Shore Health Care Awards
Applications are open for the 15th Annual North Shore Health Care Awards!
Exceptional people create exceptional results. The annual North Shore Health Care Awards celebrate staff who show a deep commitment to patient care. We are grateful for all the health care professionals in our community; your strength inspires us, and we look forward to celebrating you!
These awards are open to any Vancouver Coastal Health employees working on the North Shore. Staff are invited to nominate their peers who are deserving of a Health Care Award.
EARLY BIRD deadline for nominations: Monday, November 15, 2021 at 4pm – nominee's department will be entered in a random draw to win a lunch party!
Official Deadline for nominations: Monday, November 26, 2021 at 4 pm – no exceptions
Nomination Form: Download the 2021 nomination form, and return via email to [email protected] or by dropping it off at the Foundation Office.
Lions Gate Hospital Foundation funds three $1,000 awards in the following categories:
Workplace Inspiration
This award honours those who energize the workplace and who are dedicated not only to their chosen career, but also serve as a role model for those considering a career in health care. A health care workplace environment can be significantly enriched by an individual who exemplifies:
professional competence;
a positive "can do" attitude;
a willingness to generously share his or her knowledge and skills; and the motivation and commitment to "go the extra mile" for both colleagues and the people they serve
Clinical Practice
Continuous improvement is key to better health outcomes and to the effective and efficient delivery of service. This award honours staff and physicians who have identified an opportunity for improvement and then acted on it. This could be in the area of clinical research, process redesign, innovative curriculum development and delivery, software development or adaptation, or the creation of a new health care program or service. The intent is to honour those who have had a systemic influence on the care and service we provide not only on the North Shore, but also on the health region as a whole or even on a provincial or national level.
Leadership
Leadership is a way of being, not a job title. This award honours those who lead by example, either formally or informally. Such an individual earns the trust and respect of colleagues, sees problems as opportunities to think critically and systemically, communicates effectively, endeavours to build strong and inclusive teams, takes responsibility for his or her actions, and recognizes the contributions and talents of others. Leaders are also integral to influencing the culture of a unit or organization and have a positive effect on recruitment and retention.
All nominees who meet the criteria will be announced in December 2021. We look forward to reviewing your applications. For more information, please contact us at [email protected] or 604-984-5785.
Congratulations to our 2020 Recipients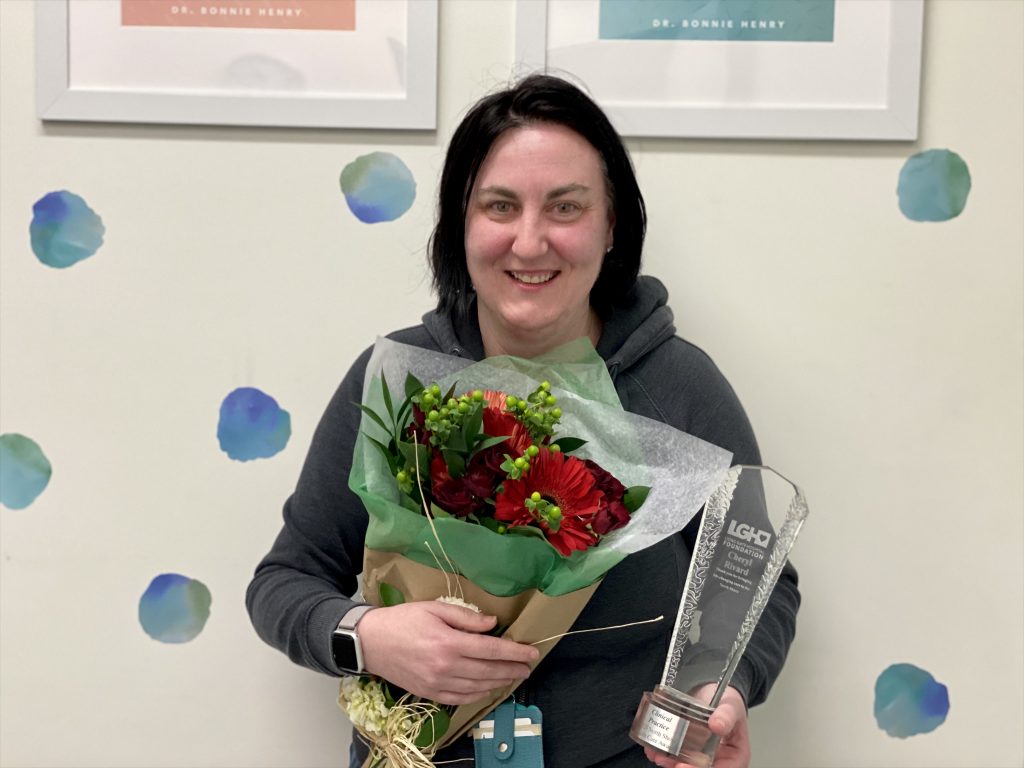 Cheryl Rivard, Clinical Practice Award
Cheryl Rivard, Project Manager for the Urgent Primary Care Centre (UPCC) in North Vancouver, is the recipient of the Clinical Practice Award.
Described by colleagues as the "master of the unpredictable," Cheryl has proved that she is ready, willing and able to rise to any challenge.
In 2019 she oversaw the opening of the UPCC. A few months after the official opening of the Centre, COVID arrived on the North Shore and patient numbers swelled from 40 to 180 people a day.
During it all, Cheryl was the quiet, calm inspiration who worked tirelessly to manage the unexpected and support her colleagues.
She handled the phone lines when needed, turned her office into an isolation suite, safely managed the line-ups, purchased supplies on her own time, ensured that staff were fed during long shifts and always led by example.
Cheryl was also part of the team that set up the first community testing site for COVID on the North Shore. During one unrelenting North Shore storm, she found herself holding up a COVID testing tent with a broomstick for several hours.
Cheryl's colleagues have been constantly impressed with her roll-up-your-sleeves attitude and have described her as "an inspiration to be around and an unbeatable team leader."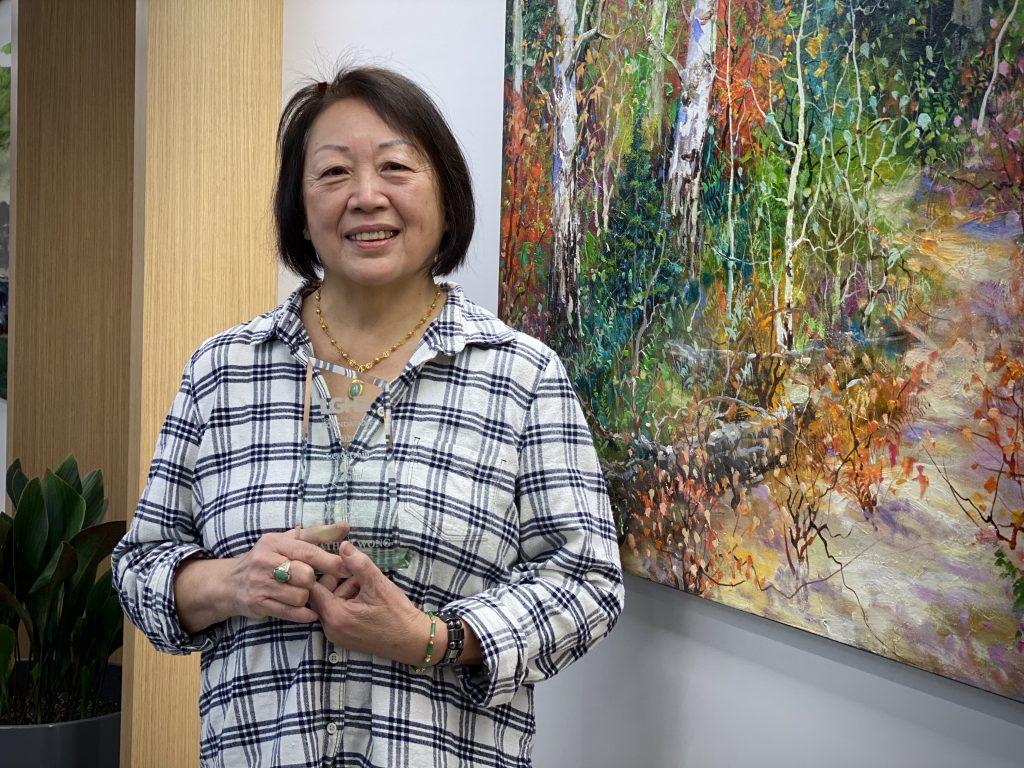 Heather Wong, Dr. les Janz Leadership Award
The award was presented to Heather Wong, a long-serving RN in the Endoscopy Unit at LGH.
According to co-workers, Heather is the reason why everyone wants to work in the Endoscopy Unit and no one wants to leave. Even Heather herself works casual shifts on the unit after retiring at the end of last year.
Heather was the heart and soul of the Endoscopy Unit. Over the years she won the respect and admiration of her co-workers for her commitment to creating a welcoming, inclusive, and supportive workplace for everyone. She always knew how to lift spirits after a hard shift and she made sure that weddings, baby showers, and special events were celebrated as a team.
With 25 years of experience, she is generous with her time and always eager to share her knowledge and expertise to help others improve patient care.
Not only did she strive to improve patient care, Heather was dedicated to bringing the Endoscopy team together and planned numerous out-of-hours activities.
According to her colleagues, she has made us all feel like we have a second family. A second family we can count on."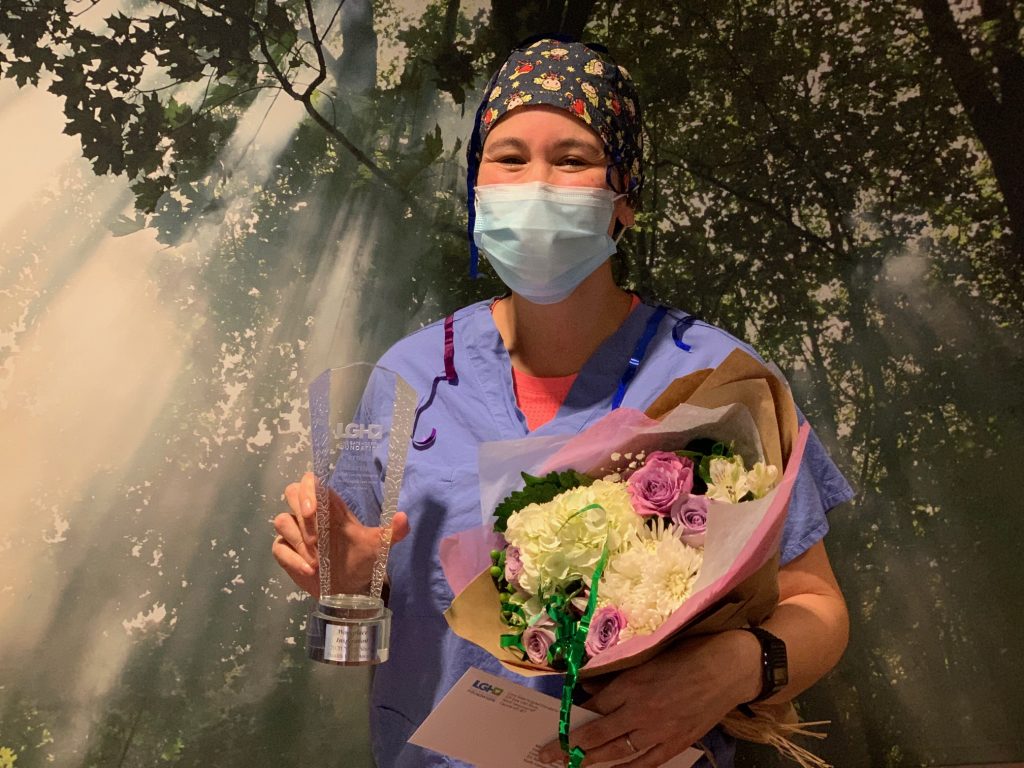 Caroline Martini, Workplace Inspiration Award
Caroline Martini, Geriatric Triage Nurse in the Emergency Department received the Workplace Inspiration Award.
Her colleagues say "she embodies the meaning of going the extra mile." From boosting staff morale to organizing a virtual food drive that raised $2,000 for the Greater Vancouver Food Bank, Caroline is a dynamic force who has devoted her time to caring for her colleagues as well as administering excellent care for her patients.
During the first week of the pandemic she added to her duties by volunteering to fit test more than 100 staff for N95 masks. Her efforts ensured that everyone in the Emergency team was safe and ready to handle the first surge of COVID-positive patients.
As the pandemic continued, she inspired staff by creating the ER Wall of Awesomeness filled with letters of encouragement from the community and tips and ideas for staying safe and sane during a pandemic.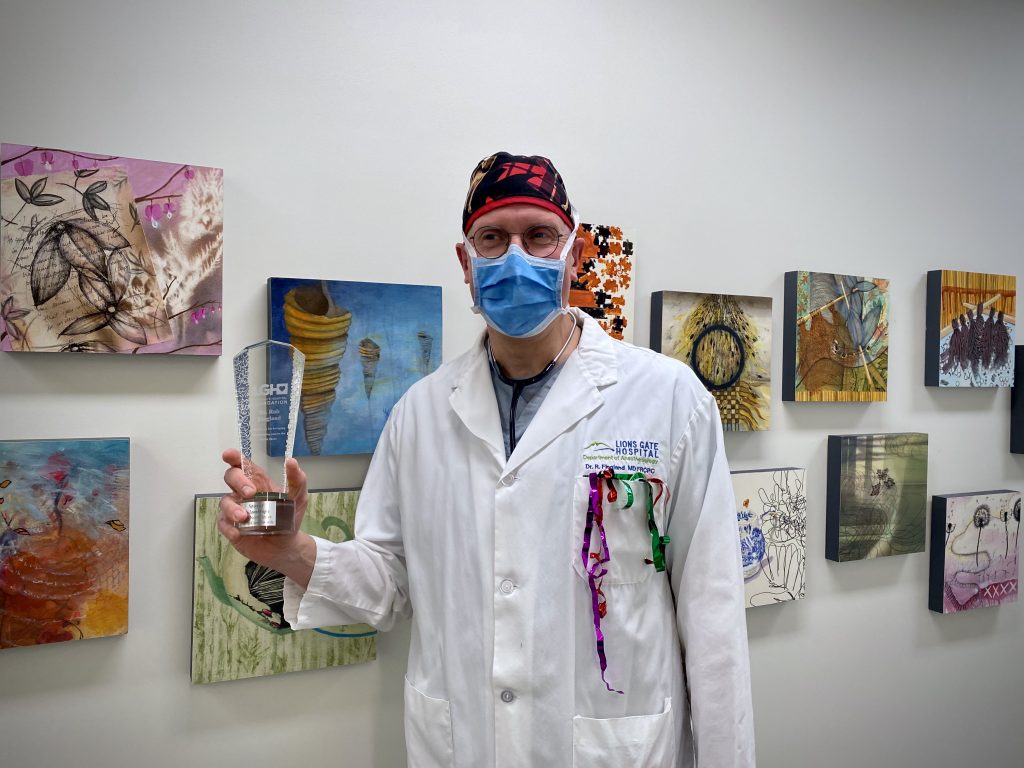 Dr. Rob Fingland, Spirit of Philanthropy
Each year LGH Foundation nominates an individual for the Spirit of Philanthropy Award to recognize their contribution to the work of the Foundation. Dr. Rob Fingland, Medical Director of the ICU, was presented with the award for his efforts to support the Critical Care Campaign as well as his financial contributions in support of patient care at LGH.
Despite having his hands full in the ICU which was full for much of the year, he always found the time to meet with donors, help out with fundraising videos and support the Foundation behind the scenes.
Congratulations to our 2020 Recipients
Each recipient received a keepsake trophy and a cheque for $1,000.
We would like to congratulate all of the nominees and thank the awards committee and all staff members who nominated their colleagues.