North Shore COVID-19 Emergency Response Fund
The North Shore COVID-19 Emergency Response Fund was established in March, 2020, to address the immediate needs of patients and staff impacted by the pandemic. Thanks to the generosity of hundreds of donors, the fund surpassed $2.1 million in June.
One million dollars have been allocated for essential supplies and equipment, including: seven ventilators, thirteen physiological monitors, fifty temporal thermometers, as well as humidifiers, and other respiratory devices.
The outpouring of generosity and support from our community has been life-saving. Thanks to hundreds of donors, volunteers, local businesses and organizations, we have made a significant impact on the North Shore.
Supplies and Equipment
Supplies and equipment donations received to date include: 27,105 N95 masks; 49,561 masks; 14,307 pairs of gloves; 901 pairs of goggles; 849 protective suits; 11,478 face shields; and more than 15 gallons of hand-sanitizer. In addition, 356 grocery gift cards were donated to long-term care facility staff at Cedarview Lodge & Berkley Care Centre.
Feeding the Frontline
Numerous local restaurants opened their hearts and kitchens to provide meals for staff working long shifts. Additionally, many other companies sponsored meals for staff at health care facilities across the North Shore. Food donations included 7,095 meals; 11,521 snacks; 12,882 drinks; and $130,018 in sponsored food related donations. This generosity has made the lives of our frontline health care workers and support staff a little easier during the exceptional times of COVID-19.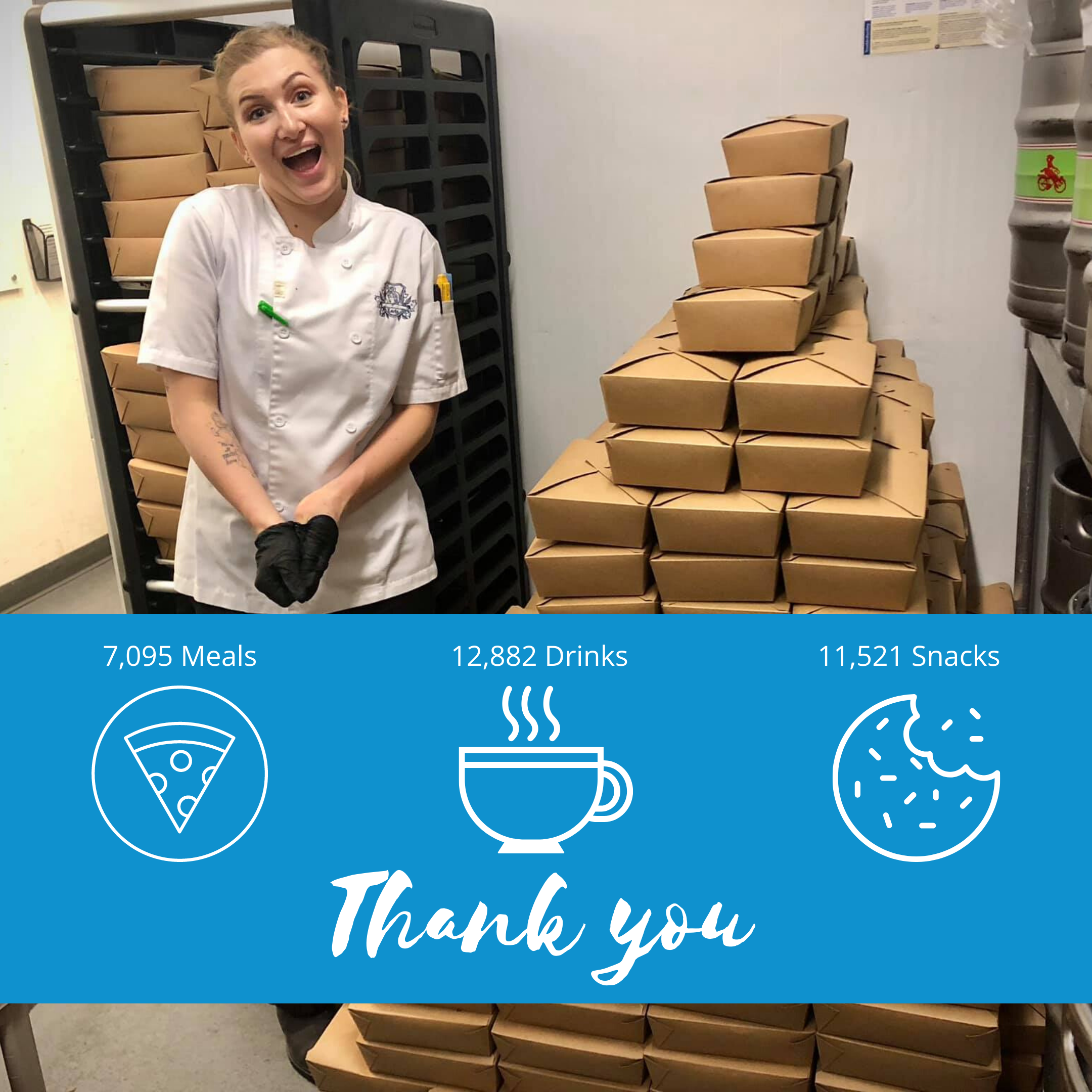 Community Support
This influx of support has been shared with the community. Close to 800 hot lunches have been delivered to individuals who live in low-income housing facilities on the North Shore. In addition, 576 gift cards were given to long-term care facility staff.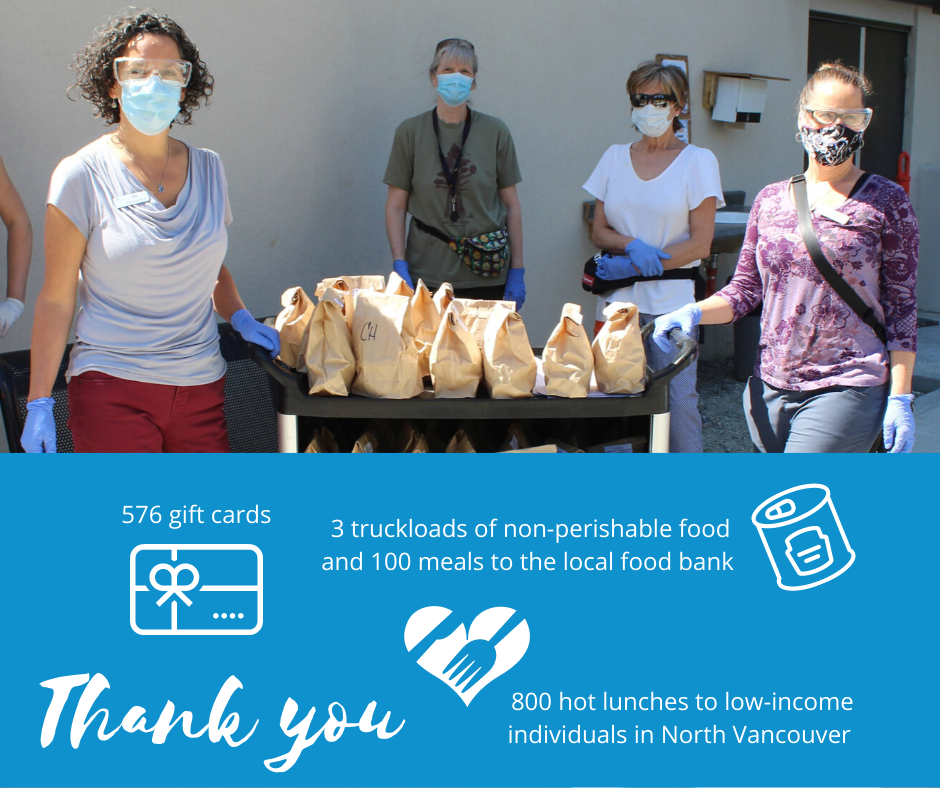 Rest and Recovery
Thanks to a $100,000 donation from the Djavad Mowafaghian Foundation, accommodation was available for eligible frontline employees. This gift supported employees who were distancing from their families for safety reasons and/or had long commutes to and from home between shifts.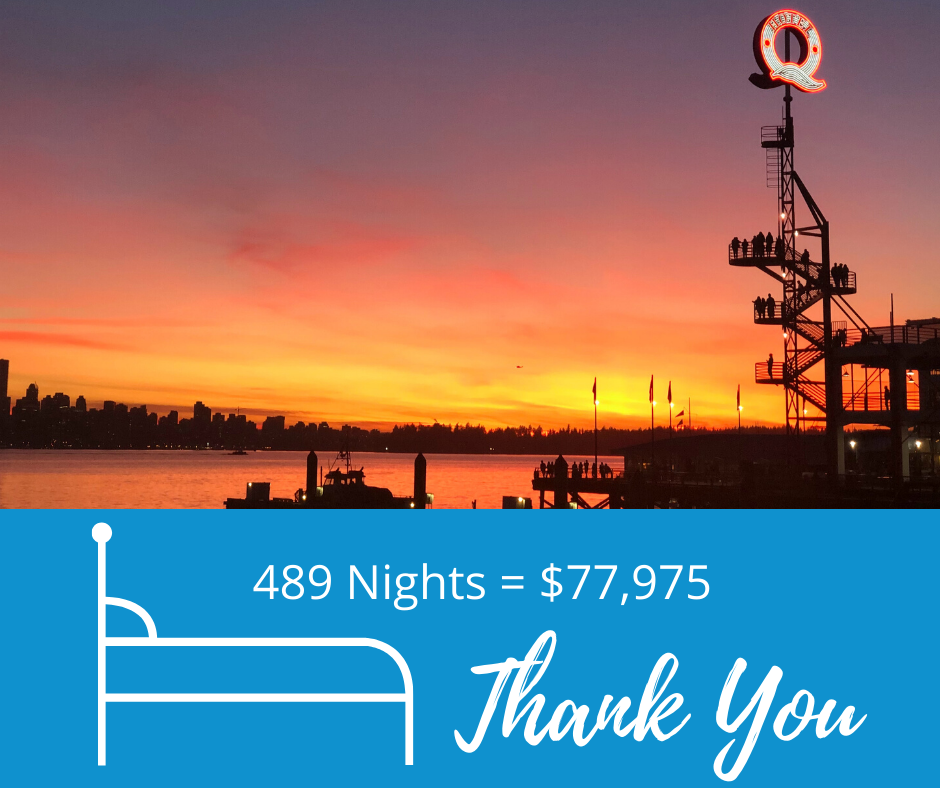 Thank You
Over the past several months our community has come together to support the patients and staff most impacted by the COVID-19 crisis. Thank you for your support during this time.
If you have any questions, please contact us at 604.984.5785, or via email.
Thank you so much for your support and stay safe.